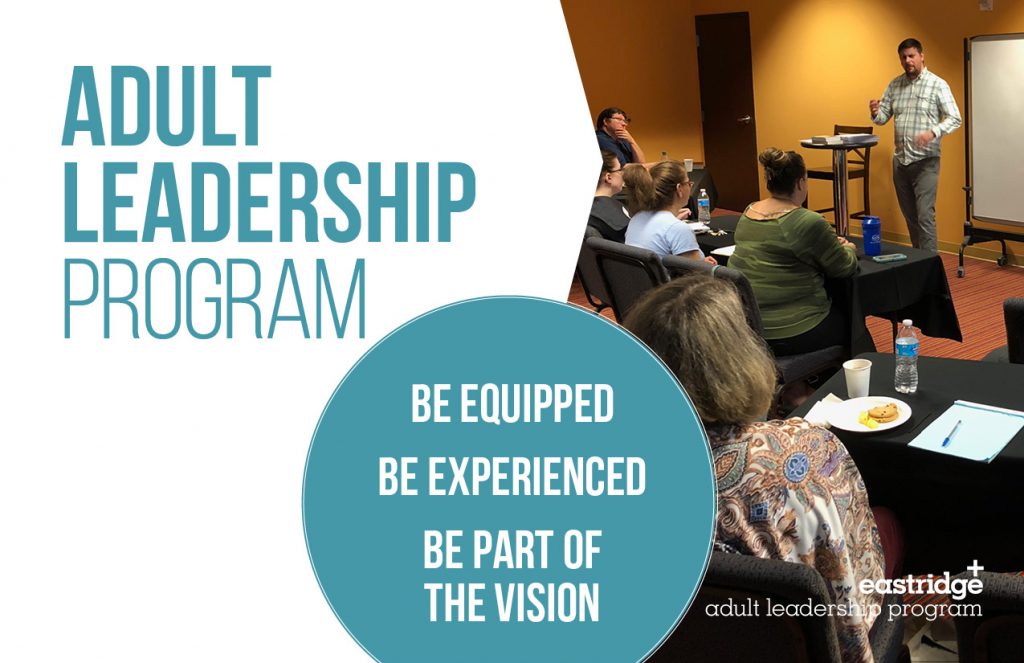 ADULT LEADERSHIP PROGRAM
BE EQUIPPED
Being knowledgeable of our faith and the Bible is important for a ministry leader in helping the church grow. To help you achieve this the ALP involves four, unaccredited classes, taught by Eastridge pastors and staff over a period of nine months to help you learn more about ministry organization, basic Christian beliefs, and a well-rounded view of the Bible.
BE EXPERIENCED
Finding your place in ministry can be a challenge. That's why you'll be working alongside the ministry leaders of Eastridge Church, to expose you to the cornerstone ministries of Eastridge as well as having the opportunity to learn how a large church functions. You'll gain experience with hands on and behind-the-scenes operations. This program will help you find your place in ministry that fits your gifts and calling to help build the Church.
BE A PART OF THE VISION
Eastridge is a growing and vibrant church, with multiple campuses and a worldwide vision. Our vision requires skilled workers prepared for ministry. As a graduate of the ALP, you will become a trained leader ready to serve alongside Eastridge's pastors and staff in working toward the mission of Eastridge by reaching the world from the I-90 corridor to the ends of the earth.
DO YOU WANT TO GET INVOLVED?
Do you have a desire to be part of what God is doing at Eastridge but are unsure if you have the right qualifications? Do you desire to learn more about your faith and help others learn about theirs? Do you want to be a part of the vision and to be used by God for greater things? The Adult Leadership Program (ALP) was created for you and those like you who have a desire to do more in the church but don't have the calling to get a Bible degree or to go into full-time ministry. The purpose of the ALP is to equip lay leaders from within Eastridge for the work of ministry and church leadership through a nine month program, which includes with four classes and diverse ministry exposure.
ADULT LEADERSHIP PROGRAM WHEN: Mondays at 7 – 8:30PM
WHERE: Eastridge Church, KidZone
COST: $30 per course, subject to change
IMPORTANT DATES: August 26, 2019 at 7pm (Orientation)
CLASSES (2019-2020 schedule):
September 9-October 14 — Ministry Organization & Leadership
October 21-December 2 — Introduction to the Old Testament
     No class November 11
January 13-March 2 — Foundations of Christian Theology
     No class February 3 or 17
March 30-May 4 — Introduction to the New Testament
June 7 — ALP Graduate Recognition (11am service)
Click
HERE
to fill out our online application.