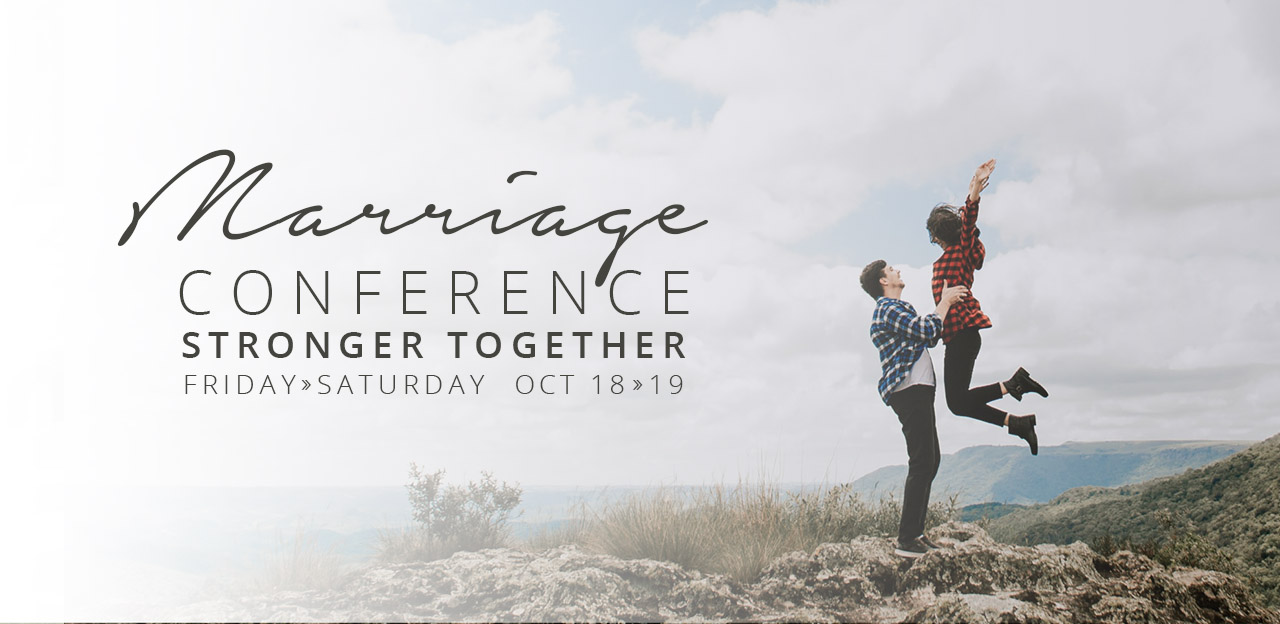 MARRIAGE CONFERENCE | OCTOBER 18-19, 2019
We've all heard the phrase that we're stronger together, but do you feel that way when you walk through the door of your home? No matter where you have been, your marriage can have a bright future! Celebrate your relationship and your tomorrow at the Eastridge Marriage Conference.
We're thrilled to have Pastor Tyler and Amber Sollie, lead pastors of Life Center in Tacoma, as our featured speakers on Friday, October 18. And on Saturday, October 19 our Eastridge pastoral staff, lead by Pastors Steve and Cheryl Jamison, will share antidotes, stories and great advice.
This conference is the perfect moment to pull away from the routine and invest in your relationship. And because we're stronger together, don't come alone! Invite another couple to join you as we become stronger together!
REGISTRATION
Regular registration: $60 per couple (through Oct. 13)
Late registration: $80 per couple (Oct. 14-19)
CHILDCARE
We understand that it's easier to invest in your relationship when your children are being taken care of in a safe and fun environment. Childcare for newborn through 11 year olds is available for the whole weekend at the cost of $20 per child. Register for childcare during the regular registration process.
FRIDAY, OCTOBER 18, 2019
6:00pm :: Doors Open, Hors d'oeuvres Reception
7:00pm :: Session #1 with Tyler & Amber Sollie
8:15pm :: Date Night!
9:00pm :: Dismiss
SATURDAY, OCTOBER 19, 2019
9:00am :: Breakfast
9:30am :: Session #2
10:45am :: Workshops
12:00pm :: Lunch
12:45pm :: Session #3
2:00pm :: Conference Ends
TYLER & AMBER SOLLIE
Tyler and Amber Sollie serve as the Senior Pastors at Life Center, a multisite church in Tacoma, WA. Amber's role is Pastor of Community Life and Culture. Their passion is to help people KNOW JESUS and MAKE HIM KNOWN, and the abundant life that is available through Him. Tyler was born and raised in Tacoma, WA and Amber was born and raised in Yakima, WA. After marrying in 2003, Tyler and Amber served as youth pastors at Eastridge Church in Issaquah, WA, Executive Pastors at Stone Church in Yakima, WA and as the Network Youth Directors for the Northwest Ministry Network of the Assemblies of God. Tyler and Amber have 3 children and have also been involved with foster care. They love good coffee, running together, and reading by bodies of water. Tyler blogs at Tylersollie.com.
STEVE & CHERYL JAMISON
Steve & Cheryl Jamison serve as the Lead Pastors at Eastridge Church, a multisite church with two campuses in the Seattle area and one in Addis, Ethiopia. Cheryl's role is overseeing women's ministry and the culture and DNA of Eastridge. Before coming to Eastridge in 1999, Steve served for 14 years as a full time evangelist; his travels have taken him into 37 nations on six continents. Steve is a member of the International Media Ministries Board and Convoy of Hope National Pastors' Committee. He previously served as a member of the Assemblies of God World Missions Board. He is the co-founder of Jammin' Against the Darkness, an evangelistic outreach featuring NBA-style hoops, award-winning music and the message of Jesus Christ. Cheryl, with more than three decades of ministry leadership experience, has served with a call to lead women to live up to their full potential as women with passion, purpose and practical faith. She also serves on the governance board of Convoy of Hope. Her greatest strengths are the combination of humor, grace, truth and God's Word that will challenge and encourage the hearts others. Steve and his wife Cheryl have three adult children and make their home in Sammamish, WA.
DIRECTIONS TO EASTRIDGE CHURCH
Eastridge Church, Issaquah Campus, is located at 24205 SE Issaquah-Fall City Rd, Issaquah, WA 98029.
Eastbound on I-90
Take Highlands Drive, Exit 18, toward Sammamish
Turn a slight right onto Highlands Drive NE
Turn right onto SE Issaquah-Fall City Rd
Eastridge Church will be on your right.
Westbound on I-90
Take E Sunset Way/Highlands Drive, Exit 18
Turn right onto Highlands Drive NE
Turn right onto SE Issaquah-Fall City Rd
Eastridge Church will be on your right.
RECOMMENDED HOTELS
Hilton Garden Inn Seattle/Issaquah
1800 NW Gilman Blvd
Issaquah, WA 98027
425-837-3600 hotel
website
Homewood Suites by Hilton Seattle/Issaquah
1484 Hyla Ave. NW
Issaquah, WA 98027
425-391-4000
website