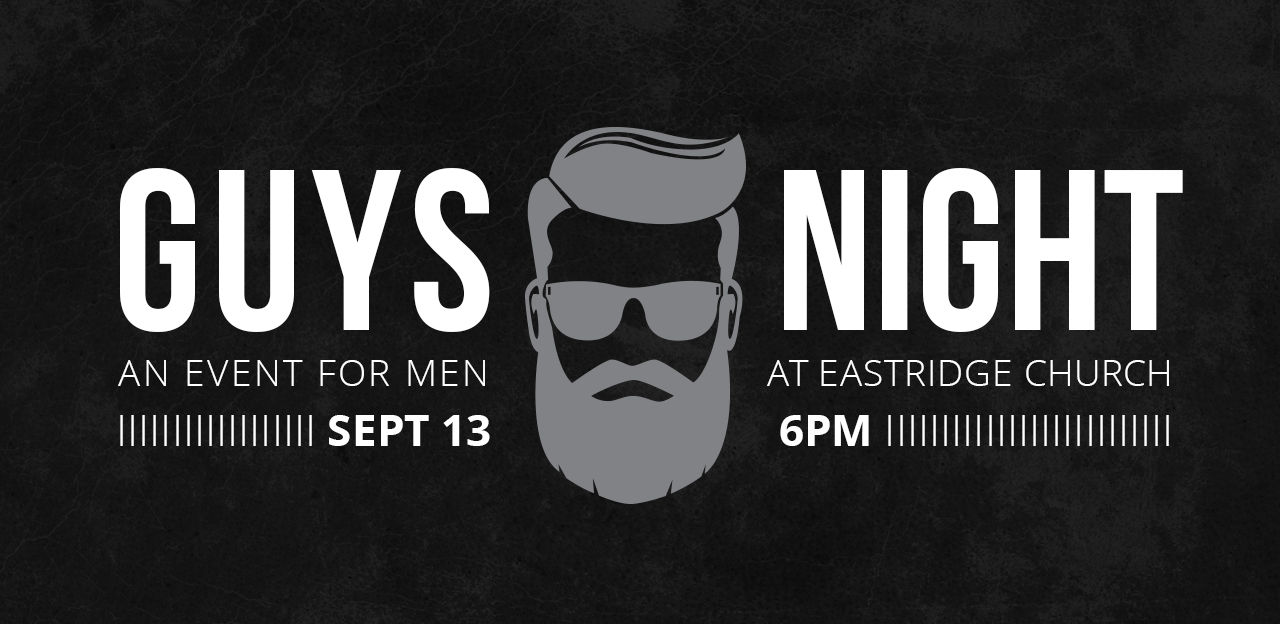 GUYS NIGHT
September 13, 2019
Men, you won't want to miss Guys Night with guest speakers Bryan Clay (Olympic decathlon gold medalist), Tim Cruickshank (Retired Navy SEAL) and Pastor Steve Jamison as conference host! You'll hear stories of valor and triumph, competition and success, heartbreak and defeat, all the highs, lows and loops of life. Mark your calendar now for this powerful night of inspiration, friendship and fun activities happening September 13. Best of all, bring your non-Eastridge friends for free!
ABOUT THE CONFERENCE
Guys Night is an incredible opportunity to deepen your walk with God and introduce Eastridge to your friends who haven't been a part of the church before. There will be encouraging messages, fun activities, great food and some surprises. Be part of the biggest men's event of the year!
We officially kick off the night with dinner and a chance for you to hang with the guys before the program begins. We'll roll right into our main session with a brief message from Pastor Steve and Q&As with both Olympian Bryan Clay and Navy SEAL Tim Cruickshank. Be sure to text in your questions for the guys because they'll come back to the stage one last time to answer them. Stick around afterward for a late night snack and activities with the other guys. This is your night to hang!
Save
FEATURED SPEAKERS

Steve Jamison, lead pastor of Eastridge Church
Steve Jamison is the Lead Pastor of Eastridge Church in Issaquah, WA. Before coming to Eastridge in 1999, Steve served for 14 years as a full time evangelist; his travels have taken into 37 nations on six continents. He is the co-founder of Jammin' Against the Darkness, an evangelistic outreach featuring NBA-style hoops, award-winning music and the message of Jesus Christ. He has led Jammin' in some of America's premier venues including two events in Madison Square Garden, the Verizon Center, and Safeco Field. Jammin' has seen thousands of people make commitments to Christ and events have been broadcast worldwide. Steve's speaking schedule takes him to a variety of audiences each year ranging from professional sports athletes, business and government leaders, and people building their lives and families. Steve and his wife Cheryl have three adult children and make their home in Sammamish, WA.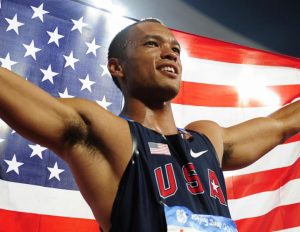 Bryan Clay, Olympic decathlon gold medalist
Bryan Clay is a four-time US National Champion, three-time World Champion, the 2004 Olympic Silver Medalist and 2008 Olympic Gold Medalist in the Decathlon, earning him the historic title of World's Greatest Athlete. He stands alongside legends like Jim Thorpe, Rafer Johnson, Bob Mathias, Dan O'Brien, Bill Toomey and Bruce Jenner as one of the most decorated Decathletes of all time. Bryan travels the world inspiring and encouraging Fortune 500 companies, professionals, entrepreneurs, families, athletes and young people. He is author of the book "Redemption: A Rebellious Spirit, a Praying Mother, and the Unlikely Path to Olympic Gold." He and his wife, Sarah, reside in Renton with their three children.
Tim Cruickshank, retired US Navy SEAL
Tim Cruickshank is a former US Navy SEAL. Honorably serving his country for 25 years and retiring at the rank of Lieutenant Commander. Tim enlisted in the United States Navy in 1990, graduated Boot Camp in Orlando, Florida, attended Hospitalman "A" School in Great Lakes, Illinois and then graduated from Basic Underwater Demolition SEAL training, BUD/S class (182) in July 1992.Upon completion of training at the Joint Special Operations Medical Training Center (18 Delta) Fort Sam Houston, TX, he was assigned to SEAL Team 8 in Little Creek, Virginia as a SEAL Corpsman. After completing several EUCOM/CENTCOM deployments covering the Middle East and Africa, he was re-assigned to Naval Special Warfare Center, Coronado, CA as a SEAL instructor.After America was attacked on 9/11, Tim completed several more CENTCOM deployments to Iraq and Afghanistan in support of the Global War on Terrorism. Tim has served in various capacities worldwide, including time at the Pentagon, Liaison to NATO Special Operations HQ in Brussels Belgium, Naval Special Warfare Unit Two Stuttgart, Germany and Officer in Charge/ Navy Dean, Joint Special Operations Medical Training Center, Fort Bragg, North Carolina. These duty stations included moving his wife and three children over 17 times during his career. Since relocating back to the state of Washington four years ago, Tim, his wife, and their three children have been members of Eastridge Church. His personal awards include the Bronze Star with Valor, (2) Meritorious Service Medals (5) Navy and Marine Corps Commendation Medals and various campaign medals and unit citations.
Save
Save
REGISTRATION
Registration for the event includes all sessions, meals and activities.
Regular registration (through September 12) is $15. Non-Eastridge friends are free.
At the door registration (September 13) is $20. Non-Eastridge friends are free.
Save
CONFERENCE SCHEDULE
Friday, September 13, 2019
6-7pm :: Check-in & dinner
7-9pm :: General session with Pastor Steve Jamison, Bryan Clay (Olympic decathlon gold medalist) and Tim Cruickshank (retired Navy SEAL)
9-10pm :: Activities, competition and late-night snack
10pm :: Conference ends
*Schedule, speakers, and activities subject to change.
Save