MARRIAGE & COUPLES MINISTRY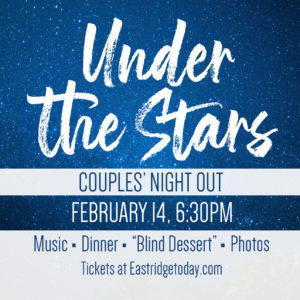 COUPLE'S NIGHT OUT: UNDER THE STARS
Celebrate Valentine's Day at Couples Night Out: Under the Stars. On February 14 from 6:30-8:30pm, we will have a romantic dinner, music, photos, an inspirational message from Clark and Karrie Roberts of "Ultimate Vision" and a unique "blind dessert" experience with your Valentine. Tickets are $30 per couple (before 2/10) and childcare is available onsite for just $10 per child, but space is limited.
MARRIED LIFE
Join couples in all stages of life as they keep Christ as the center and foundation of their marriages. Upcoming discussion topics include: Intimacy; Learning and communicating your spouses love language; and Practical ways to overcome struggles.
Sundays at 11am in the chapel (Issaquah). Led by John and Kim Welk.