Please note that we have many small groups in addition to our Ladies Bible Study that meet around the area, studying other topics and with different focuses. To find a ladies small group that fits your personal needs and desires please take a look through our Groups directory.
BIBLE STUDY: Trustworthy
When hard times come and it seems God is deviating from the plan we assume our life should follow, we're much more likely to want to tame God, not trust Him. It's then that we begin to press into our ways and our own timing. No human can carry the weight of being their own god, but so many of us try. In this study of 1 & 2 Kings you will join Lysa TerKeurst in Israel as she honestly reveals the places of distrust in her own heart while exploring the deeply personal applicable Scriptures that will teach us how to truly trust God. Join us in the Worship Center Wednesday at 7pm for teaching, small group discussion and prayer.
SUMMER IN SEATTLE: June 3
You are invited to be a part of a morning of flavors, friendship and faith on June 3 at our West Seattle campus. This morning includes beautifully decorated tables to preview in a variety of styles. Sampling of food items with take home recipes and gift included. Special music and words of inspiration to kick off your spring. Doors for table preview open at 9:30am. Tickets on sale now!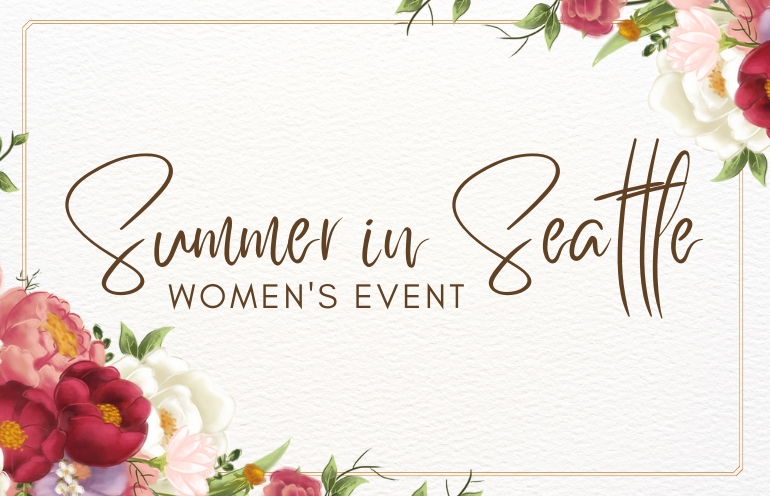 HELPING HANDS
The ministry of Helping Hands provides meals for families in need. We make sure that all meals are delivered in a timely manner with consideration for any allergy concerns and general tastes of the family. The leaders of this program are very structured and provide diligent oversight and stewardship for this ministry. Your participation in this extension of women's ministry is much needed and appreciated.
If you need a meal for your family, please contact the church office.
If you are interested in participation as a "meal-maker," please contact Chris Emmett, Helping Hands Coordinator.